Instrument Status
Subsystem
Status
Triple wheel
Working AOK. Currently-loaded elements in the slit wheel are:

Clear
Echellette slits
Integral Field Unit (IFU)
1.0 arcsec low-dispersion longslit
0.75 arcsec low-dispersion longslit

Please contact your support astronomer in advance of your run if you will need any slit not listed above.
Guider
Replaced guider, focus delta fixed.
Calibration lamps
All lamps working AOK.
Rotator
Ok
CCD
OK to observe.

Reported detector temperature is warmer than normal.
Detector performance unchanged
Dewar LN2 hold time is 18-20 hours.
Key:
No problems
-
Problems
-
Broken
Instrument News
Jan 11, 2022 -- Dashboard Countdown Discrepancy
We have had 2 instances where the ESI Dashboard GUI countdown shows exposure time remaining even after the exposure completes. We think this is due to a memory issue with the Dashboard GUI and should be fixed by restarting the Dashboard.
Additionally, we have added an xshow to the control0 VNC desktop to show relvant exposure info. If there is a discrepancy between the Dashboard and the xshow, the xshow is correct.
xshow image
xshowExposure Description

shutter

Shutter status: "open" or "not open"

exposip

Exposure in progress: "true" or "false"

ttime

Total exposure time: in seconds

elaptime

Elapsed exposure time: in seconds
Feb 16, 2021 -- Detector temperature reading higher than normal
After a weather-induced warmup, ESI did not reach its normal operating temperature range of -115 to -120 degC. It now reads between -95 to -100 degC
Some evidence indicates the temperature sensor may be reading incorrectly
Dewar hold time remains >18 hours
Dewar ion pump continues to function normally
The bias voltages have not changed to keep the bias about 1000 DN
The dark current looks unchanged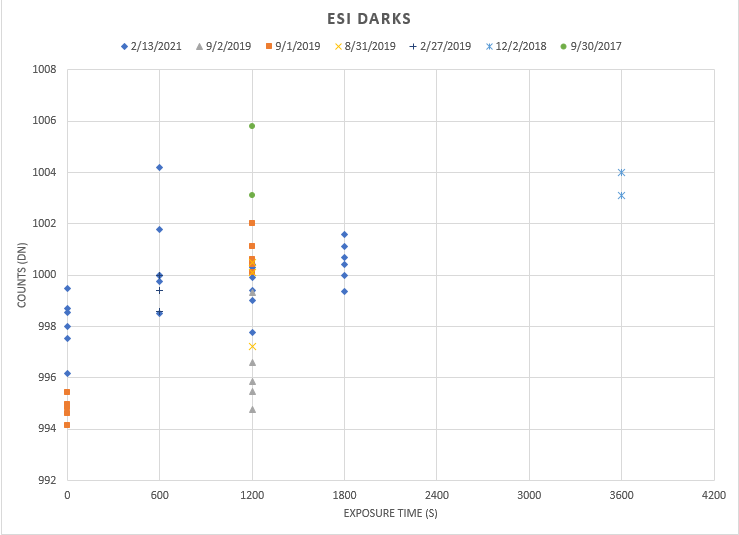 Jan 26, 2016 -- DVD writer no longer available for data backups
The Keck Observatory is phasing out the auto DVD writer sometimes used by observers for data backups. Options to launch the DVD autobackup gui are no longer available from the background menu. Because the Keck Observatory Archive (KOA) now ingests all raw data from every instrument at the observatory, observers are encouraged to use KOA to retrieve a copy of the data following your observing sessions. Instructions and links to possible methods of data backup including KOA, scp, and rsync are found at: BackingUp.
DVD writer for data backups will be phased out (2014-Mar-7)
The Keck Observatory is phasing out the auto DVD writer sometimes used by observers for data backups. Although there is no time line for the removal of the DVD writer, we will no longer troubleshoot or maintain the DVD writer. Because the Keck Observatory Archive (KOA) now ingests all raw data from every instrument at the observatory, observers are encouraged to use KOA to retrieve a copy of the data following your observing sessions. Instructions and links to possible methods of data backup including KOA, scp, and rsync are found at: BackingUp.
05 Nov 2012 - New ESI Calibration Tool Released
We are pleased to announce the initial release of the ESI Calibration Tool which automates the process of gathering biases, darks, flats, and arcs for ESI.
13 Jul 2012 - New ESI Exposure Time Calculator Released
Xavier Prochaska and Brad Holden of UCO/Lick have released a nice web-based exposure-time calculator for ESI.
24 Oct 2011 - Keck starlists can now contain RA/Dec offsets
In response to a recent observer request, the MAGIQ guider software has been updated to allow observers to specify RA and Dec offsets to be applied after a target has been centered up. The intention is to permit starlists to contain entries for alignment stars with known offsets to a faint science target which may not be visible on the guider. As described in the starlist documentation, the new keywords to include are raoffset and decoffset. The offset values listed in the starlist file can be read directly into the MAGIQ offset fields, thus avoiding the need to verbally relay telescope offsets to the Observing Assistant (with the corresponding risk of a miscommmunication). If you have any questions about how to specify offsets in your startlist file, please contact your Support Astronomer for assistance.
09 Sep 2011 - ESI Throughput Measurements Updated
Xavier Prochaska's web page of ESI efficiency has been updated with new measurements acquired this month.
24 May 2011 - ESI Signal-to-Noise Estimator Now Online
Jason Prochaska and Brad Holden of UCO/Lick Observatory has created an signal-to-noise estimation tool for ESI. We hope that observers will find this tool useful in computing exposure times for ESI and welcome feedback on the software.
08 June 2010-ESI Starts All-VNC-All-The-Time Operation
ESI is the first Keck instrument to formally switch to using VNC full-time for operations; other Keck instruments will transition to this mode shortly. For several years we have employed VNC to share instrument control windows with remote observers on the mainland; this will now become the full-time operating mode for ESI. By doing so, we will thus have a single startup procedure for observers to follow regardless of whether or not they will operate with mainland observers. Operating under VNC also makes it easier for support staff to assist observers with troubleshooting, and allows our observing assistants to monitor the status of observations during the night. Your support astronomer will be happy to assist you with starting your ESI software under VNC.
31 January 2010-ESI IFU Released
The ESI Integral Field Unit (IFU) has completed its commissioning phase, providing a new ESI observing mode which offers medium-resolution spectroscopy for extended targets. Developed at UCO/Lick by Andy Sheinis and Joe Miller, the unit employs an image slicer arrangement to reimage a contiguous 4.0×5.7 arcsec field of view into 5 separate spectra covering 20 arcsec of slit length with a slit width of 1.13 arcsec. The resulting echellette-mode spectra cover the normal ESI wavelength range of 0.37—1.0µm at a resolution of R=3500. Throughput for the unit itself is only 45-55%, reducing the advantage of the greater field of view, but for certain programs this new capability for ESI will produce greater observing efficiency.
Right: Simulation of a possible target for the ESI IFU, a galaxy much wider than the typical ESI slit. The red boxes indicate the 5 slitlets in the IFU. Left: Simulated ESI spectrum consisting of 5 individual spectra correponding to the 5 slitlets in the IFU.
For further information on the IFU, please refer to the ESI IFU documentation and the corresponding article by Andrew Sheinis.
12 January 2007-ESI Repair Effort Begins
With assistance from Jeff Lewis of UCO/Lick Observatory, Keck staff removed the triple wheel assembly from ESI and shipped it to Lick for replacement of the triple wheel bearings. We expect to get the repaired assembly back in early February and to have it ready for use in March.
Fall 2006-Middle Wheel Bearing Failure
During the fall of 2006, the middle wheel on ESI began to fail moves regularly. Investigation revealed what appears to be a bad bearing on the middle wheel, causing the wheel to stick and moves to fail. The middle wheel was locked into the "decker" position to permit use of the instrument in echellette mode only during the November and December ESI runs. The entire triple wheel assembly is slated for removal and servicing at UCO/Lick Observatory in Jan-Feb 2007, with a return to fully-operational service in Mar 2007.
13 June 2005-Problem with Middle Wheel
In the one-night June observing run we encountered a fatal problem with the middle wheel. This wheel contains the aperture mask and a couple of filters. Unfortunately there was a filter in the beam when the failure occurred, and we could not get to the clear position and limp along for the night.

The problem appears very similar to the problem with the upper wheel seen in 2004 March. In the latter case the culprit was a failing harmonic drive that had vibrated loose a number of set screws, keys, etc. Investigation into the current problem is ongoing.
17 December 2004-New Web Page Design!
You will notice a new Web page design on the ESI home pages. As part of a concerted effort to overhaul the Web pages, we are also including a new design that will make the pages easier for us to maintain and provide observers with more useful and attractive documentation. Note that these pages will contain elements best viewed in a modern browser, such as Netscape 7, Firefox 1.0, Safari, etc. Bear with us while we make this transition, and report any major anomalies or problems.
17 December 2004-ESI Guider Problems
The December 2004 run of ESI found us struggling with guider problems, and we had to switch over to DEIMOS for a few observers. The original problem appears to have been caused by a bad video cable to the guider's camera head, but we also found cooling fans that were bad in the controller. No sooner had we fixed those problems than the camera's shutter died. While we have ocntingency plans in place for a shutter that dies in the open position, this one died in the closed position.
8 March 2004-Slit Wheel Problems
For a number of months we have been having very sporadic failures of the slit wheel to converge to its requested position. Early in semester 2004A this problem rapidly worsened. Requiring us to tear into the triple wheel motor and gear box, we found what we thought was a smoking gun: a loose set screw on a coupler. Diagnostic tools were put in place and showed that we still had a potential problem. Further ESI observing showed that we did indeed have further problems, and upon deeper investigation we found a bad gear box. The set screw found originally had come loose because of the vibration caused by the bad gearbox.

We now have diagnostic tools, including a set written by De Clarke of UCO/Lick Observatory, that will help us identify this type of problem earlier, and avoid loss of observing time. Thanks to the Lick Observatory crew that helped with diagnosis and repair of the problems!
15 November 2002-ESI Shutter Broken and Fixed
Observers on 2 November 2002 found that the ESI shutter was not operating properly. After some troubleshooting it was determined that the night should proceed with the shutter used in "single-blade" mode. In this mode only one of the two blades (the working one) is used to shutter the exposures.

Subsequent analysis of the shutter by summit crew showed that the problematic shutter blade was working fine, but not triggering the limit switch. The limit switch was adjusted and the shutter tested. It is now fully operational.
27 September 2002-Minor GUI modification
Some of you may notice on your upcoming runs that the button previously labeled "STOP" on the ESI GUI has been renamed "PANIC!". Some observers did not understand that "STOP" meant to stop all motors immediately and lock them out of control. It was meant to be an emergency measure in case some terrible problem threatening life, limb, or equipment occurred while motors were moving. Instead, some observers thought that it meant "Stop the current exposure" or "Cancel the current motor move request (but don't lock me out of control!)". "PANIC!" more accurately reflects the purpose of the button.
27 September 2002-Revised spatial scales in echelle mode
The pinholes in the MultiHoles mask have been carefully measured in imaging mode and scaled by the astrometrically-determined imaging pixel scale. (The MultiHoles images are separated by 2.695 +/- 0.020 arcsec on average.) This has led to a revision in the pixel scale along the slit for each of the echelle orders. The new numbers are given in the Quick Reference link as well as in the Observer's Manual.
18 August 2002-Dome flat recommendations
At least one observer has recommended dome flats for echelle mode, rather than internal flats. In general it is hard to create the same illumination pattern on the spectrograph optics with light reflected from just in front of the slit.

Whether this affects only the most critical calibrations or all data remains to be seen. Feedback from other observers would be appreciated. Just e-mail the ESI Scientist with comments. Mahalo!
9 July 2001-GUI Facelift
A few relatively minor modifications have been made to ESI's Dashboard GUI. The most obvious will probably be seen in the "QuickFrame" buttons on the main GUI and in the CCD detail panel. There are now options for setting windowing and binning for full-frame images taken in normal (1x1) binning, 1x2, 2x1, and 2x2 binning. Note that these buttons change the window definitions, the binning, and the number of amplifiers.

Some other changes:
The TV warnings that would invariably pop up on the screen during instrument initialization have been removed.
The initialization has now been made slightly faster by fixing a minor bug in the script. It now takes roughly 3 minutes to initialize everything.
The initialization routine also effectively does a "Clear Desired" after it completes, so that it does not leave you with a bunch of yellow buttons that request an old configuration.
The triple wheel has been relabeled to agree with our finally adopted naming convention: upper, middle, and lower wheels.
The Init. Run button on the User Config (or "Start Here!") pop-up has been removed. This was confusing some observers, causing them to delete the information just entered for observer, file root name, starting file number, and directory.
5 July 2001-New Echelle Slits Accurately Aligned and Available
The new echelle slits (see below) have been accurately measured, and new wheel positions defined to place them in the same position in the focal plane. This should help if you ever need to calibrate the wavelength of spectra taken with one slit using data from a different slit. (E.g. spectra taken with the 6 arcsec echelle slit may be difficult to wavelength calibrate on their own.)

These new slits are now the default (the old slits have been removed from the instrument).
21 May 2001-New Line of Holes for Echelle Calibration
A feature of the new echelle slit mask is a line of holes lying along the slit direction. This "MultiHoles" position of the upper wheel in ESI will allow you to calibrate the relative spatial scale along the slit as a function of order, and give you a set of traces as a function of position along the slit.

In the latter context, remember that atmospheric dispersion may cause your stellar trace to deviate from the traces defined by the slits!
21 May 2001-Improved Illumination of the Echelle Slits
A new echelle mask, tilted at a different angle than the old one, has now been tested on sky. The previous echelle mask had maximum sensitivity at the very top of the mask, not near the slit centers as observers would like. The new mask tilt provides optimum illumination near the slit centers. It also has a better-formed 0.3-arcsec pinhole, and (see above) a line of holes. Each slit position of the mask must still be tested before being released to the observers, although the MultiHoles position (a new feature) has been calibrated and released for use this run.
21 May 2001-A New Coma-Correction Tool for ESI
ESI (as well as LRIS-R and possibly LRIS-B) contains some internal coma, in part because of its design as an off-axis instrument. Since tilting the secondary a small amount primarily adds coma into the image, it allows for two observing modes with ESI: spectroscopic mode, for which the secondary tilt is used that optimizes the image quality in the telescope focal plane, and imaging mode, for which the secondary tilt produces a coma opposite to the instrumental coma, providing a nearly coma-free field at the science detector. Note that in imaging mode the secondary tilt depends on the physical rotator angle. In spectroscopic mode it does not.

Previously the OAs and observers had no easy way of switching between modes, other than to run a fresh MAlign and analyze the images in the appropriate manner. With the new coma.tcl tool MAlign is run in its default mode, the tilts (which correspond to spectroscopic mode) are loaded into coma.tcl at the click of a button, and then the user has full control over the secondary tilts via two buttons-labeled "Spectr." and "Imaging"-for the rest of the night. Results from a new MAlign can be loaded again at the click of a button.

This software is currently released on a shared-risk basis. It has been tested during the engineering run in 2001 March. More can be learned from the documentation.
3 November 2000-MAKEE now available for data reduction!
Tom Barlow has graciously extended the capabilities of his echelle reduction package, MAKEE, to accomodate ESI data. Currently only 1x1 binned, full-frame echelle data have been proven. See Tom's MAKEE Web page for HIRES for details. The ESI numbered accounts should have integrated access to MAKEE by the time you observe next.

MAKEE is a highly automated echelle reduction package which is ideally suited for both quicklook reduction and for full data reduction.
3 November 2000-autocopy, for copying data to HQ scratch disks
For a number of years observers have been using ``copymon'' for automatically copying HIRES, LRIS, and (more recently) ESI data to HQ scratch directories, primarily for backup and quicklook reduction capabilities. (Remember, you should NOT reduce data on the same disks that raw data is written to!) ESI account menus now feature ``autocopy,'' an automated form of copymon that creates a directory on an HQ scratch disk and starts the copy monitor. As the ESI keywords signal that another image has been written to disk, copymon then copies it to the HQ directory automatically.
3 May 2000-Guider Concerns (updated 25 May 2000, 3 November 2000)
Nov. 2000 update: Low-D slit work has been on hold until we determined what the appropriate slit tilt was for optimizing the illumination on the TV guide/acquisition camera. The current slit tilt places the best illumination at the top of the slit mask, not at slit center as it should. During the October engineering run a new tilt was determined, which will allow the Lick shops to proceed with cutting new slit masks.
In addition, a user-friendly, click-and-drag interface to creating subwindows has been created for the OAs, which will allow them and observers to concentrate on small regions of the guider rather than being limited to full-chip readout
There are two major concerns about the guider. First, the illumination around the low-D slits is terrible, making it difficult to center targets. The slit masks themselves are not being held properly, and one is being sent back to Lick for analysis. Some details are provided for the engineers.
Update: The Lick shops have found that the holders for the low-D slits were cut poorly, and they are cutting a new test holder and developing gluing techniques to improve the slits. However, this will not benefit the upcoming late May/early June run.
The focus also varies across the guider field, and during an upcoming engineering run we will measure this and see whether it is more consistent with a tilt in the TV CCD or a discontinuity between the offset field and the slit.
On the plus side, we are now using a subwindow around the slit to speed up centering. This cuts the time per image by 12 seconds (!) in 1x1 binning. Flat fielding the guider images has also been demonstrated but not fully tested.
3 May 2000-Web index
On the ESI Home Page there is an Index, which should make finding some things easier on the Web pages. It is not complete yet, and probably will not be 100% complete for a long time. If you see some grievous omission, let us know!
14 February 2000-Sandra Castro's IRAF reduction Web page
Sandra Castro of Caltech has put together a nice set of instructions for of ESI data.
14 February 2000-Echelle "Wavelength Finder"
On the Web is a new "wavelength finder" for echelle mode. It is a small JAVA program that shows an image of the CCD and allows you to click on different parts and readout the wavelength of that location. We hope to upgrade it in the future to allow you to select from a number of canned images: wavelength calibration spectra, night sky spectra, and flat field.

There is also a hope to get a better version of this installed into FIGDISP, so that observers can read wavelengths directly off their data images. Currently the JAVA program does not support the import of arbitrary FITS images, nor is there any intention of doing so.
1 February 2000-New low-D slits (updated 14 Febraury 2000)
We have receiving from the Lick shops a full set of new low-dispersion slits. They use a new material which should cut much cleaner than the old slits. They arrived in time for the early February 2000 run. Remember that only three of them can be installed at one time, leaving a fourth position open for imaging and the fifth position for the echelle slits.
1 February 2000-Dewar rotated
In echelle mode the arc lines and night sky lines were tilted previous to 26 January 2000. The tilts varied across the echelle format, but averaged around 0.6&deg. At the wavelengths of the [O I] 5577, 6300, and 6363 night sky emission, and the OH emission lines in the near-IR, the tilt was closer to 0.7&deg. The dewar was rotated to correct for this, with a very slight residual tilt amounting to about 1/3 pixel or less across the entire length of the slit. This dewar rotation should help improve night sky subtraction in echelle mode.
1 February 2000-Data reduction help
There is more information, such as wavelength plots and even wavelength solutions, on the Web now which should help observers reduce their data. We are in the process of accumulating a full set of sample images to make available on the Web, now that the dewar rotation has been performed (see above).
27 December 1999-End of Commissioning
ESI is now almost fully commissioned, and will start science observing tomorrow night with Prof. George Djorgovski of Caltech. A manual written by Mike Bolte is available on the Web, although it will undergo changes as we get more data and more experience in using the system with different science observers.

Mike Bolte is also working on a data reduction description for IRAF users. We also hope at some point to get Tom Barlow's HIRES reduction system working with ESI data.

Most notable, the entire Web site will now be changing from its original "commissioning" design to its more or less final design. This will take some time, but will put a great deal more information at the fingertips of users. Please have patience, and e-mail if you cannot find the information you want.