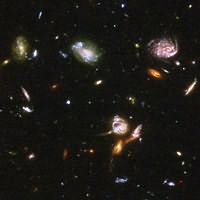 Club Address:
65-1158 Mamalahoa Hwy.
Kamuela, HI 96743
---
An electronic publication of The West Hawaii Astronomy Club
Club Officers:

Co-Presidents:
Craig Combes,
Craig Nance,
Doug Summers
Secretary:
Laura Kinoshita
With Support From:
Canada-France Hawaii Telescope and
W. M. Keck Observatory

---

This website is currently maintained by
Doug Summers
---
Observing Report for Saturday, August 12, 2006
contributed by Doug Summers


Home Schoolers and the Perseids

Greg Wirth of the Keck Observatory came by my office last week and asked me where the Club holds its observing sessions. He told me that he was hosting a group of home-schoolers and their parents for an astronomy learning "get-together". The timing of the event was to coincide with the annual peak of the Perseid meteor showers. Unfortunately, the moon was expected to be quite bright for this year's event, but he wanted to have it anyway. The idea would be to get together, have a short observing program, and then view some objects together before the moon rose and/or the kids tired out. I mentioned to him that I thought the club site would be a great place to have a large group, and that the club would probably support the event with a few telescopes. He agreed, and I began to work the permit and an object list. The evening came, and we had about 20-25 people attend. Dusk started with typical cloud cover, but it was easy to see that the cover was thin and would clear out nicely. By sunset, holes had already started to form.

The club members that were present with telescopes included Doug & Kellee Summers (22" DGT and 18" Obsession), Craig Nance (3 telescopes including his new 10", an 8"?, and 4.5" milky way browser", Craig Combes (16"), and Carton Lane (8" club scope). Mark Baril came to add moral support and help out where possible. With this cadre of folks and telescopes, we had a early walk-about with the observers to explain how the telescopes worked and what we would see. The kids seemed very excited, and you could tell that their parents had taught them well.

Our program had about 20 objects in it, including some "themes". The themes were "near and far", "stars", "star clusters", "star birth", "star death", and "summer nebula". The primary objects we used to illustrate these concepts included M51, Jupiter, M11, M22, NGC6231, M13, Albireo, Mu Cephei, Double-Double, Deneb, M17, M8, M20, Dumbbell, Ring, Veil, Barnard 86, and Polaris. We had only from sunset to 9:30 to view objects, so we needed to keep moving pretty fast. With so many telescopes at the ready, we were sure to succeed if the weather behaved. The two largest scopes saw much action as might be expected, but the crowds did move around and all telescopes were used to host the kids and parents. Next time we do something like this, it will probably be a good idea to form a circle with the big scopes at far ends to encourage more comparative activity. A highlight was the clarity of the early seeing. Jupiter was very nice.

I wish I would have used higher powers, but it was giving very nice views at lower power, and this was also advantageous for kids not to have to work so hard to keep the object in the field of view (slower motion). I was able to easily make out both major equitorial cloud bands, and about 4 of the more subtle ones as well. Winds were light to nil, and the object is still fairly high in the sky at the start of the night. We got some very good views of most of our objects. Particularly pleasing were the double-double (lots of folks enjoyed the "horizontal" and "vertical" split pairs, the Swan (always a pleaser), the Ring, and the globulars. A few "streakers" were seen, but pretty few. We actually waited a bit too long to go after M51, and the result was some junky skies. However, it was still visible, and the 22" could make out the nice spiral structure. M51 is getting pretty low now anyway; we'll need to say goodbye until spring. Doug tried out his new 75mw green laser pointer, and Greg used it to teach the kids the constellations. Compared to the 5mw green laser (also present), the 75mw was amazing. With a range of 30 miles, this is one laser that everyone loved. We used it to point out a few satellites to the kids, and of course paid attention to safety (as anyone who uses a laser should). So, overall, it was a very nice outing, that left everyone feeling good. Kellee and Doug picked up some trash before the event, and Craig Nance was nice enough to carry it away for us.
| | |
| --- | --- |
| Setting up | Greg gave a pre-viewing lecture |
| Craig N setting up | Doug and the big dobs |
| Craig and his 3 'scopes | Kellee and the 18" |
Thanks to everyone who supported...we had a great time and the kids really appreciated it!